Kelim (Menkot) Level 5 Barbarian
Darksten (Comrade Commander) Level 15 Assassin
Calamity (Scubacarrot) level 1 mage
Mathias (Stickfig) Level 20 Druid
Rethinal (Rconn0) Level 1 Cleric
Terry Yelnats (Endgame) Level 1 Mage
Muradin (Cryos) Level 1 Barbarian
Last edited by Admin on Fri May 01, 2015 4:42 pm; edited 2 times in total
Admin




Posts

: 146


Join date

: 2015-04-04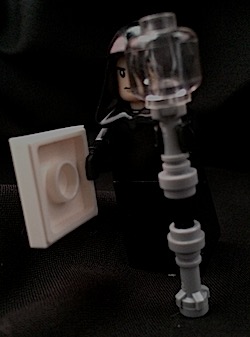 A man robed in flat black from head to toe, carrying an ornate staff topped with a crystal orb, steps from the shadows near the quest board.  He reaches out and removes the sheet containing the aid request for quest 133.  He reads over it silently, comparing the names on it to the names of those who have departed.  He pulls a quill from the sleeve of his robe and strikes two names from the list.
Three potential heroes, it is a powerful number, but not yet ideal.  The Caliph will be pleased that there are those who will come to his aid.  There is still time for this list to grow.  I fear that more strength may be needed.
He returns the pen to his sleeve and retacks the notice to the board.  He then turns and melts back into the darkness.
CURRENT SIGN UP FOR QUEST 133-A Walk Through the Parlor
Kelim (Menkot) Level 5 Barbarian
Darksten (Comrade Commander) Level 15 Assassin
Calamity (Scubacarrot) level 1 mage
Mathias (Stickfig) Level 20 Druid
Rethinal (Rconn0) Level 1 Cleric
Admin




Posts

: 146


Join date

: 2015-04-04





Similar topics
---
Permissions in this forum:
You
cannot
reply to topics in this forum